Charlotte Pfeifer, born in 1976, is a theater director, actress, producer and author. She loves to combine theatrical realities with visual arts, music and choreography, often outside, in public spaces. It also sets up workshops with the aim of stimulating the creativity of the participants, both for adults and for children. Charlotte began working at the Schule für Schauspiel Hamburg as an actress, while studying literature and philosophy at the Universität Hamburg. At the moment, the artist creates exclusive theatrical pieces: as a performer, together with various large companies, or with the Artists-Group Traummaschine Inc. Other times she holds the role of actress for other directions; this allowed her to work in various parts of Germany (Hamburg, Munich, Düsseldorf, Berlin, Schleswig Holstein).
Together with Enzo Mirone she led the workshop of Quartieri di Vita, Life infected whit Social Theater, a project of EUNIC Rome and Naples and of the Fondazione Campania dei Festival, at the Alma D'Arte civic school.
We asked her a few questions about the experience:
Tell us about the experience Quartieri di Vita, Life infected with Social Theatre at Alma d'Arte. What did you expect and what's your take home?
To be honest I didn`t really expect anything – I tried to get a vision of what would happen, but I failed. So I had no choice but to be open to whatever would come about. But still I was pretty surprised how well everything went in the end, how well Enzo and me and the group connected, how we managed to come up with something beautiful in a very short time. I took home a lot of new experiences and I still am a bit overwhelmed by the beauty of Campania and the kindness of the people.
Of course I also took home a little bottle of stregha, and I intend to drink it on the most rainy and grey day. To a northern soul like me the december in southern italy was really sunny and warm, and I want to remember it while drinking this strange yellow liqueur.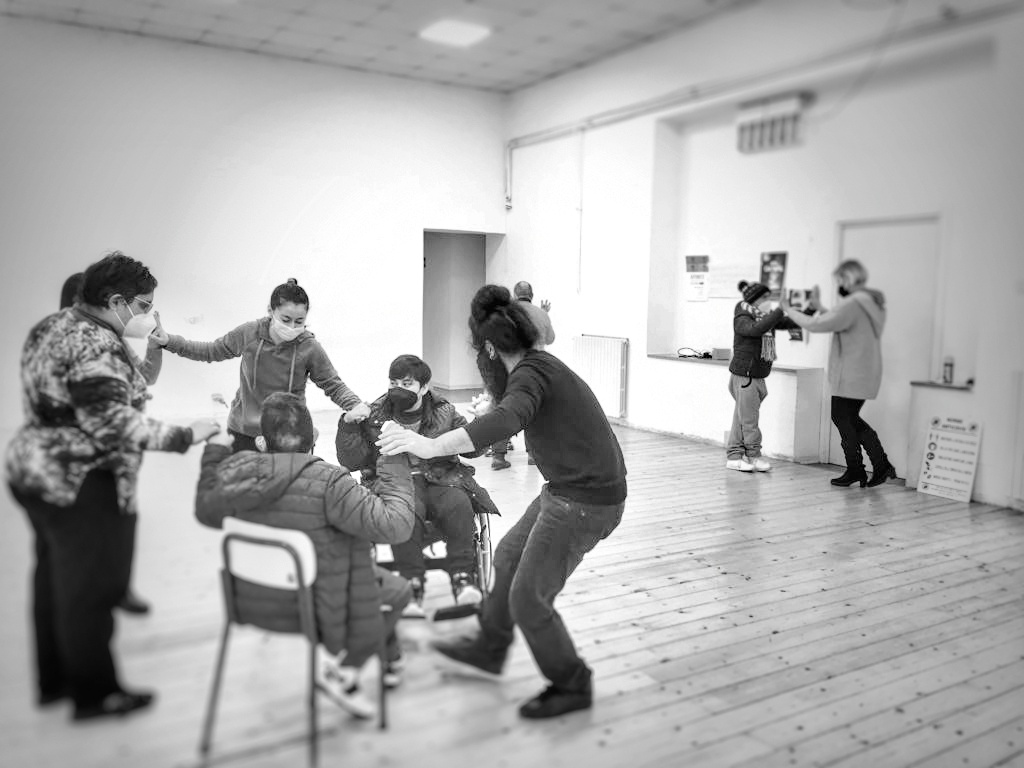 In the workshop you conducted with Enzo Mirone, you developed the work on the concept of "repairing / reparieren / repare", regarding the time it takes to repair. How did the research develop? How did you stimulate the interaction of the participants by going beyond the physical limits and barriers that could exist?
I had this idea of repairing, because I like the concept of not throwing away or giving up so easily. But sometimes an idea is just an idea… on the day of my arrival we found this china in a second hand-store in Benevento- it´s for tea or for coffee, i don´t know, and there this dragon painted on every sweet, little cup. So we set ourself the goal to smash one cup a day, even though it costed us quite an effort to do so in the beginning. But then it turned out that destroying was much more fun to everyone than repairing, and our gentle fight with the porcellain dragon was the more fruitful subject.
The question of time is still interesting though: to make theatre with people with handicap or with people without handicap isn´t so much a difference as some people might think. I think, the main difference is the time it takes. In our special project we had only 10 days to get in touch and develop something that we were able to show in the end. So we had to hurry and to slow down in the same moment. But it worked, because everybody was so patient and caring, everybody seemed to feel the responsibility for one another, even though everybody in the group had very different abilities and ideas. This for sure is something that people without handicap can learn in inclusive groups: the patience and the ability to care for each other is what people with handicap often seem to have in advantage.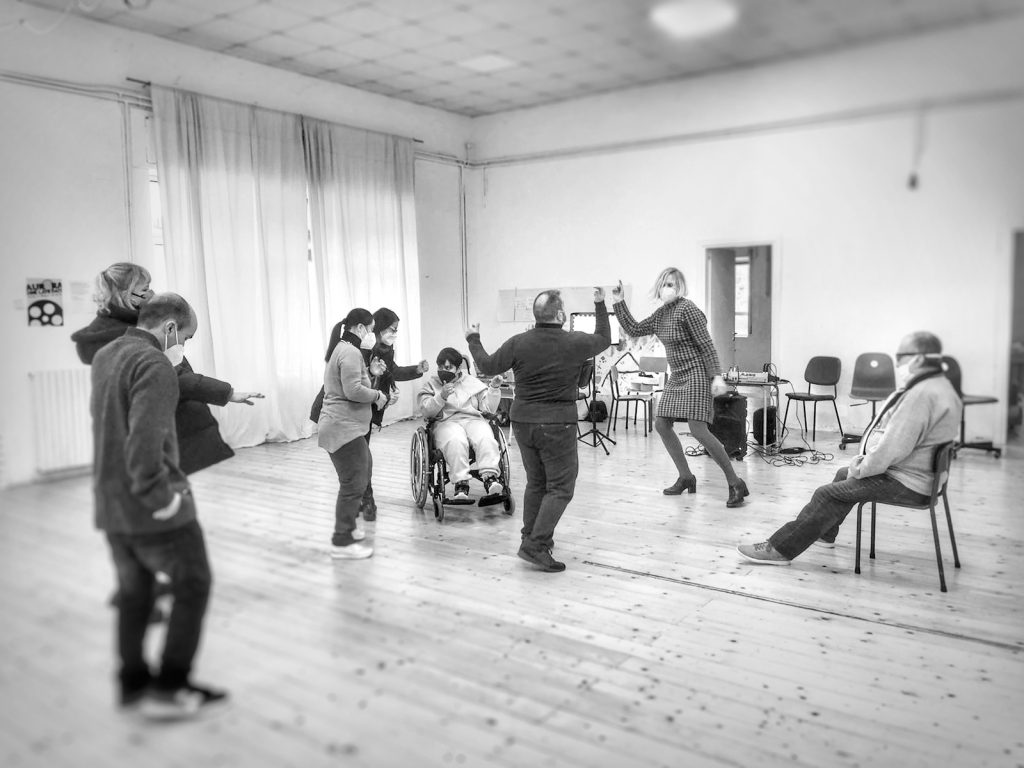 On the day of the performance you said "Alma d'Arte is an utopian place". What does it mean? What role could art play in an extra-urban area like ours?
I live in a small village in the northern part of Germany, and I know it´s not so easy to realize cultural projects or art projects in rural spaces: It´s not so easy to raise money for that and it sometimes is not so easy to raise the peoples interest in arty stuff. What I saw at the Alma D'Arte was a group of people who felt responsible to bring art and sociocultural projects to the people, they could rely on each other and the place they created really seems to work: people own it and use this common space for their activities. A place where people can get in touch with each other – this is something very important these days. At the Alma D'Arte art seems to be a tool for assembly, and at the same time assembly is a tool to bring art to the people. One doesn´t work here without the other. I hope this place will grow and live for a very long time.